How do I send my items in for service?
This is the most commonly asked question we receive. The paragraphs below will tell you all you need to know to submit your valuable articles for service and ensure their safe delivery. There are two points that are more important than anything else you can do.
1. First, supply us with documentation. We need to know who you are and what you are sending and why. It is hard to believe, but we receive items for repair weekly, which include no documentation and we have no idea who they belong to or why they were sent to us. A phone call is simply not enough. A lot happens in a week's time and many repairs come in each week. We have just added a new "Service Form" which should be submitted with every repair sent to us. You can access this form from navigation buttons on all pages of our web site. Items received with no documentation will be shelved until such time the sender contacts us as we have no idea who owns it or what they want done without the required paperwork.
2. The second important point is to pack your items with care to protect them in transit. We receive locomotives which are poorly packed on a regular basis and damage often occurs in transit. Please review the section on how to pack your item below. If you just put your locomotives in the factory packaging and put them in a Priority mail box with little or no packing materials and think that is all that is needed STOP! Read below.
Shipping Instructions: PLEASE READ!
Pack your item carefully! Locomotives without fragile detail parts are best wrapped "snugly and securely" in clean bubble wrap. The small 3/8 inch bubble sheets are best for this purpose. Wrap the item snugly and secure with a strip of tape or rubber bands. If the bubble wrap is not secured, it will loosen in transit and the items may slide out and be damaged. Items not secured in the bubble wrap may just as well not have any at all. Locomotives with fragile detail parts should be packed in the original box* in which they came from the factory. It is important to install the felt pads (originally used by the factory) wherever the plastic cradle touches the locomotive. (both ends and roof top) This protects the paint finish from rubbing damage in transit.
*CAUTION: If the plastic cradle in your box is not still clear and flexible, and it has yellowed or turned color or if sending any F-unit, Ae 8/14, turntable, crane or other item, which was originally packed in a box with a gray plastic cradle with a clear top, DO NOT UNDER ANY CIRCUMSTANCES USE THE ORIGINAL CRADLE for shipping!!! These are now brittle from age. THEY WILL SHATTER IN TRANSIT AND THE LOCOMOTIVE WILL BE SEVERELY DAMAGED OR DESTROYED. This is not covered by insurance! See example photographs below showing the box types and the yellowing that occurs on some box inserts.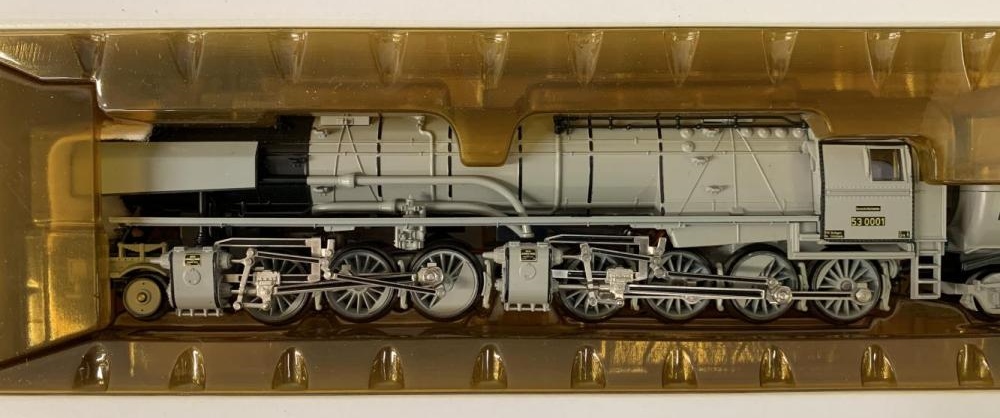 Yellowed inserts shatter in transit severely damaging the locomotive. DO NO USE these if yellowed.


Any locomotive, set or other item packed in a box with the gray plastic insert, like those above, should not be used for shipping. These will shatter and severely damage the contents.
Packing your items: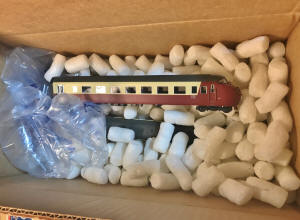 Oh No!
This is an example of how NOT to pack your items for shipping. The box is just as it was when I opened it, except I had pushed the air pillows back to see the contents. The locomotive and end car should have been tightly wrapped in bubble wrap and the box filled to the top with packing material so the contents were held in place firmly. The box was 1/3 empty giving the contents lots of room to move. If you don't have to put pressure on a box to close it, then there is not sufficient packing material inside to protect your items.

Pack the items in a good sturdy box that is oversize enough to protect the item. (minimum 1-inch around all sides) DO NOT PACK LOCOMOTIVES WHICH ARE IN THEIR ORIGINAL BOX IN A FLAT (3 to 4 inch thick) FedEx OR Priority Mail BOX! THIS IS INSUFFICIENT. ITEMS NEED A BOX WITH ROOM FOR CUSHIONING ALL AROUND. Think of it this way, would you drop your locomotive in its original Märklin box on a concrete or steel floor from a height of about 4 or 5 feet? With no padding between the locomotive and the shipping box, that is essentially what you will be doing if you pack a locomotive this way. Expect that it will get dropped during sorting, transport and delivery! (Pack the box tightly with packing noodles, foam, air pillows, bubble wrap or crumpled paper all around the item. Items considered improperly packed (like the 3-4 inch thick boxes referenced above) are not covered in the event of an insurance claim for damage in transit. Ship it to the address below. Insurance coverage is your choice. We return items insured. Include a completed copy of our "Service Form" with your shipment. Items received with no documentation will be shelved until such time the sender contacts us as we have no idea who owns it or what they want done without paperwork. A phone call or email is not sufficient. The service form is your item's identity and it stays with it from unpacking to invoicing and has all the information we need to complete your repair. Turn around time varies at different times of the year. Winter is peak season and it may take three weeks or more to complete a repair. (not including transit times) Summer turn around is usually faster.
Ship to: Helmuts Hobbies Service
83 Brookshire Drive
Warrenton, VA 20186-3032
Special S
hipping Instructions for
Trix and Märklin BIG BOY
Packing the Big Boy properly for shipment is one of the most important things you can do to ensure it does not sustain damage in transit to us. We have received several models that were carelessly packed. Because of this, they sustained damage in transit that cost extra time and money to repair. The most important things you can do to protect your locomotive are outlined below.
The most important thing to do is make sure to use the original brass spacers and the three transport screws to secure the locomotive to the base. Make sure the screws are absolutely tight. I suggest paying a visit to your local auto parts store to purchase a small tube of Permatex "blue lock-tite". This is a thread filler that prevents screws from vibrating loose. It is not uncommon for the transport screws to loosen in transit. Use just a tiny drop (trace) of this on each of the three transport screws when attaching the locomotive to the wooden base. Make sure to purchase the BLUE not the red. Red lock-tite requires the joint to be heated to a temperature of 500 degrees before it can be broken loose. Needless to say, you do not want your Big Boy to become a permanent display piece and I do not want to have to heat it up with a torch to get it off the base!
Now that you have the locomotive securely fastened to it's display base, it is time to pack it. If you no longer have the original plastic that was wrapped around the locomotive, find a suitable replacement and place it on the bottom of the wooden box before the locomotive. Wrap the plastic over the locomotive and close the box lid carefully. Wrapping plastic around the locomotive prevents small detail parts from catching on the foam insert and breaking off. If you have the original box, pack the wooden box in the plastic over wrap and cardboard cradle before inserting it into the outer box. Pack the locomotive in a strong box large enough to give at least 3 to 4 inches of packing material all the way around. Fill this area tightly with foam noodles, foam padding or wadded newspaper and ship insured by your favorite method. A little time planning and care will ensure the safe arrival of your loco for servicing.