"Service for the Worlds Finest Trains"
Factory Authorized Service Center for
Roco Fleischmann Märklin TRIX HAG
We are proud to announce that Modelleisenbahn GmbH recently chose us as their only authorized service center in the USA!
We can do anything you need.
We received this for repair
We returned this to the customer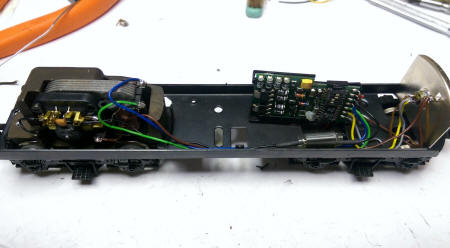 Before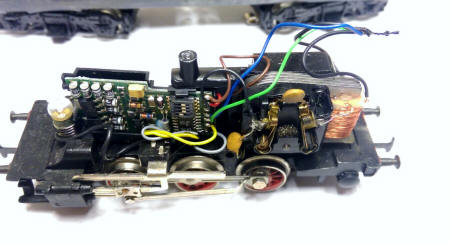 After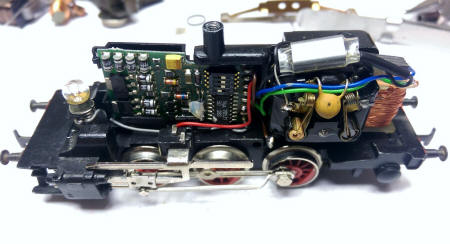 Which level of craftsmanship do you want inside your locomotive???
Additional information links:
My locomotives need service?
Regular servicing of your locomotives is necessary for optimal performance and longevity. An old locomotive which has never been serviced has oil and grease that has thickened over time and causes a significant amount of friction leading to high current draw (read stress) on the motor and wear. In some cases the oil is like molasses and the grease is completely dry. Models also do not run very well with dirty contacts, wipers and wheels. In some cases locomotives that have been run every Christmas but never serviced in some 50+ years, have accumulated dirt, lint and grime in the gears which causes excessive wear to the model. Lint will also cause steam locomotive side rods to bind and break. Those are expensive parts and are no longer available for many old locomotives.
Märklin & Oil Lock UP
Märklin locomotives (especially Z) manufacured from the early 1980s into the 2000s have bad lubricating oil which solidifies with age and will actually lock up the locomotive's mechanism solid. At the very least locomotives will be very sluggish, but improve as they heat up from the additional friction. If your HO locomotive's headlight work, but there is no movement after being stored for a long time, it is likely locked up. In the case of some Z locomotives this friction actually strips the teeth right off the gears. If a Z locomotive is not running, but the headlight is on, it is locked up and must be serviced. Attempting to get it to run on the track when it is locked up will damage the motor beyond repair in a matter of seconds.
What's included and how much does it cost?
Our normal labor charge is $55.00/hr. When labor runs over one hour, you are billed in 1/10th of an hour increments for the time required thereafter. Locomotives with Telex couplers, locos that are more complex to overhaul like 3015 crocodiles typically take more than an hour. Please also note, that locomotives that have not been serviced with dirt caked in the gears and lint around axles and side rods require extra time to clean. The lint has to be picked out by hand and caked on dirt in gears has to be removed using a three step cleaning process which requires more time. These typically run 1.5 hours plus.
Hi Scott,
This afternoon I received your package containing the 3 locomotives. I want to tell you I was so pleased when I unpacked them. You made them look like brand new. Naturally I tried all three of them out and I can tell you they run and perform perfectly, just like they came from the factory. Thank you so much, you made me very happy. The F800 was from my childhood back in Germany. It was bought in the mid 50's. Scott, you did an absolute terrific job with these locomotives. It is clear to me why Maerklin in New Berlin recommended you. You are just simply the best. Keep up the good work. I will put a check in the mail on Monday. Thank you again Scott!
Best regards,
Manfred Gaupp

Scott,
Thank you so much once again for your fine work. The replacement of the entire interior lighting on the 3 older passenger cars, together with the LED bulbs, is magnificent. The diesel switcher is currently working just fine, even though you indicated there was some question about the decoder. I am very appreciative and grateful for the skill which you have and for the work which you do! Thank you……again!

Robert Morse, Scarborough, Maine
These are just a few of the emails received after servicing customer's locomotives. Unsolicited comments like these come in often because we do things the right way. The technology used today in model trains is very much like the technology found in your computer, automobile and home entertainment center. Repairing today's model trains takes a lot of technical expertise that can only be gained through intense study, practice, research and hands on training. We have invested untold hours to learn everything we possibly can about today's technology so we can offer our customers the most professional, high quality repair service available. With factory tools and over 40 years of experience, we have the knowledge and skill to repair your locomotives the correct way. We also keep a large stock of spare parts on hand to ensure faster turn around.
Your valuable locomotives are treated with respect! Your locomotive is handled carefully. All locomotives, whether in for overhaul or digital conversion, are completely disassembled, de-greased and cleaned in an ultrasonic bath. We then reassemble with new parts where necessary. This always includes new traction tires and brushes. This assures your locomotive is returned to its original performance. This is especially important for locomotives being converted to digital. Reliable performance can only be assured from a clean mechanism. Labor charges are $55.00 per hour. This charge covers most repairs and conversions. However, locomotives that require additional time due to the complexity of their mechanism or locomotives which require additional decoder programming will be billed at this base rate plus additional time in 1/10th of an hour increments.
More unsolicited comments about our service:
Hi Scott, Just got around to running the two locomotives that you serviced. They both run better than before. I believe that Crocodile, MA 39565, has improved sound? I like. Loco runs so smooth and just crawls so easily. A true joy to run. I really appreciate your attention and solution to the front trucks.
On MA 36653, I was really impressed that you noticed and replaced broken horns and antenna on shell of the ITL loco. I did not expect this. Fantastic. I'll be most careful from now on.
Well, I can't thank you enough for the wonderful servicing that you do. I so glad you have this business. Otherwise, I wouldn't know where to turn for quality service. You have great talent.
Larry Fangman

I just received my converted lok with the 60904 decoder, and I have to say that you are the best dealer regarding speed of service, follow through, efficiency, etc.!!! I knew that these decoders only recently became available, and, for a TYPICAL dealer, I'd have to contact them and remind them to install one of these in the lok they're holding for this purpose. I thought about emailing you, but, from past experience with you, thought you'd likely take care of it ASAP...which, is EXACTLY what you did. What a pleasure to have a dealer take care of these type of "pending" situations without me reminding them.

You're great, keep up the great work, and thanks!!!

Grant Markley