Recently completed Märklin 3054 DB BR 103 from 1968. Sparkling clean with modern High Efficiency Propulsion DC motor, isolated bulb sockets, center vestibule light added, ESU 21-pin interface junction board with ESU Loksound 5 mfx decoder and cell speaker. Topped off with the latest ESU DB class 103 "Hi-Fi" sound files.
"Service for the Finest Trains"
Factory Authorized Service Center for all Scales Big and Small
Roco Fleischmann Märklin TRIX & HAG
We can do anything you need including LED lighting installation in passenger cars, all types of sound and non-sound decoder installations, overhauls and extensive repair. We service HO, N, Z, I and more.



Are your locomotive's lights flashing (a warning from your decoder that there is excessive current draw) or does it run and stall? Does it run again after sitting for a while? Or- Does it just generally run like crap? You likely have a clogged commutator. Allowing this to continue will permanently damage the armature and the decoder. It does not matter how old the locomotive is.......
An important motor primer all hobbyists should understand:
All motors are susceptible to commutator clogging and Märklin's new "maintenance free" can motors are no exception. This condition can destroy the decoder if not caught in time. The locomotive will tell you about it if you pay attention to the symptoms listed in the questions above. Motors are often over lubricated at the factory and the oil eventually seeps in around the motor shaft bushing to the commutator. Some motor designs are more susceptible to this than others. Carbon shed from the brushes as the motor runs, mixes with the oil and continues to accumulate in the insulating grooves of the commutator until a thick paste of oily carbon is packed into the grooves. This carbon paste is conductive just like the motor brushes and it shorts the commutator segments together. This causes the motor to draw excessive current, causing the armature to overheat. The overeating can get so extreme that the solder connections between the armature windings and the commutator melt and sling off into the motor's interior or brush plate cover. This heat can also melt and burn the thin shellac coating on the motor windings and cause the bare wires to make contact, which destroys the armature. The photo below is a Märklin High Efficiency Propulsion DC motor from a locomotive I serviced. A picture really is worth a thousand words. You can see the extreme accumulation of brush debris on the commutator. The commutator is shorted electrically, but is still okay on this armature and it maintains a normal color. An overheated commutator will turn dark or look badly tarnished or even distorted and no longer round. Motor windings will darken in color if the shellac has overheated and burned. However, I seldom see darkened windings anymore as a locomotive's decoder is usually destroyed before this happens.

You can help slow or prevent this from happening to your 5-pole High Efficiency Propulsion motors by using a small smear of grease instead of oil on the tip of the armature shaft where it comes through the brush plate. A little oil goes a long way on motor bearings too, so on can motors, use only one drop. I remove the can motor of every diesel and electric locomotive with cardan shaft drive that comes in for service. I cut a service port into the plastic brush housing to allow for cleaning and future servicing of the commutator. This does not harm the motor in any way. I then clean the commutator and clean all traces of oil out of the motor and re-lubricate with one drop of oil on the motor shaft bushings. If serviced early enough, this saves the motor and decoder and gives the owner a way to access the commutator for future cleaning.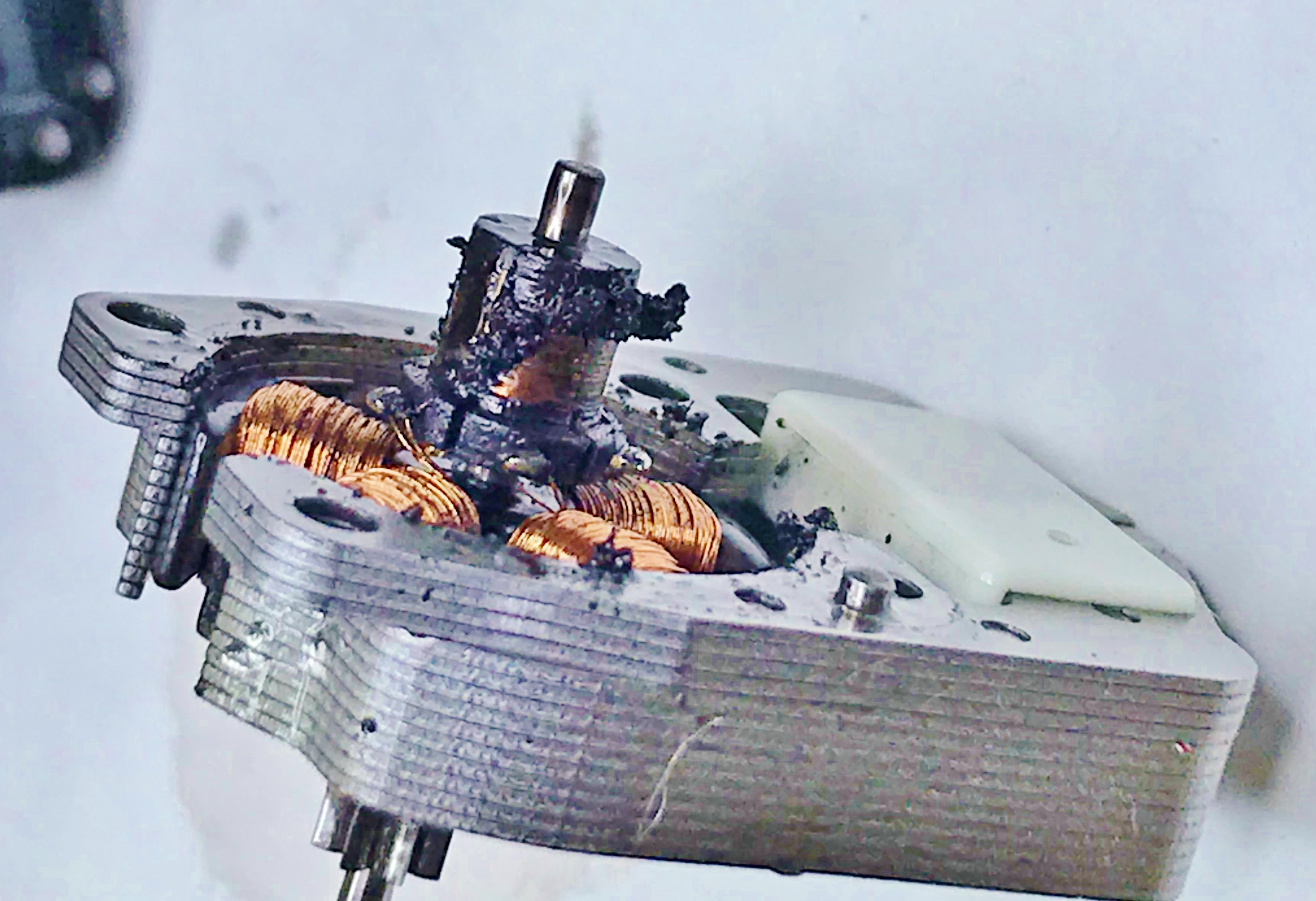 I have had armatures like the one pictured above come in that have overheated and gotten so hot (in excess of 400 degrees F) that the the solder joints where the windings meet the commutator have melted and slung off and onto the brush plate!This armature's commutator is electrically shorted with oil and motor brush residue that has gotten packed into the insulating segments. What's around the outside of the commutator is the excess brush debris that could no longer go into the insulating segments and just accumulated in the brush housing.
Brush residue beginning to accumulate in commutator insulating segments (click images to enlarge)
Destroyed armature from overheating caused by brush debris clogging the commutator. Brush debris, which is conductive, short circuits the poles of the armature and causes the motor to draw excessive current. This overheats the armature and leads to a range of damage from heat discoloration of the commutator to melted commutator solder joints or worst case, complete destruction as shown below. This one is an extreme case. If a motor gets this bad, the decoder will likely be destroyed too.
We received this for repair
We returned this to the customer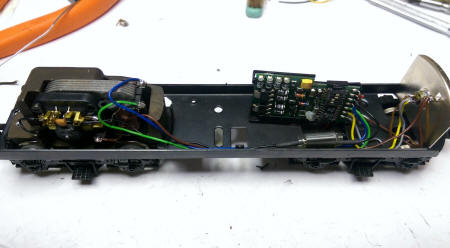 Before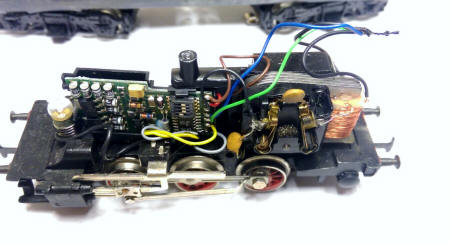 After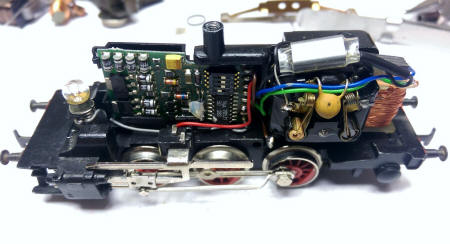 Which level of craftsmanship do you want inside your locomotive???
Do my locomotives need service?
Regular servicing of your locomotives is necessary for optimal performance and longevity. An old locomotive which has never been serviced has oil and grease that has thickened over time and causes a significant amount of friction leading to high current draw (read stress) on the motor and wear. In some cases the oil is like molasses and the grease is completely dry. Models also do not run very well with dirty contacts, wipers and wheels. In some cases locomotives that have been run every Christmas but never serviced in some 50+ years, have accumulated dirt, lint and grime in the gears which causes excessive wear to the model. Lint will also cause steam locomotive side rods to bind and break. Those are expensive parts and are no longer available for many old locomotives.
Märklin & Oil Lock UP
Märklin locomotives (especially Z) manufactured from the early 1980s into the 2000s have bad lubricating oil, which solidifies with age and will actually lock up the locomotive's mechanism. At the very least locomotives will be very sluggish, but improve as they heat up from the additional friction. If your HO locomotive's headlight work, but there is no movement after being stored for a long time, it is likely locked up. In the case of some Z locomotives this friction actually strips the teeth right off the gears. If a Z locomotive is not running, but the headlight is on, it is locked up and must be serviced. Attempting to get it to run on the track when it is locked up will damage the motor beyond repair in a matter of seconds.
What's included and how much does it cost?
Our normal labor charge is $65.00/hr. When labor runs over one hour, you are billed in 1/10th of an hour increments for the time required thereafter. Locomotives with Telex couplers, locos that are more complex to overhaul, like 3015 crocodiles, typically take more than an hour. Also, please note that locomotives that have not been serviced with dirt caked into the gears and lint around axles and side rods require extra time to clean. The lint has to be picked out by hand and caked on dirt in gears has to be removed using a three step cleaning process, which requires more time. These typically run 1.5 hours plus.
Hi Scott,
This afternoon I received your package containing the 3 locomotives. I want to tell you I was so pleased when I unpacked them. You made them look like brand new. Naturally I tried all three of them out and I can tell you they run and perform perfectly, just like they came from the factory. Thank you so much, you made me very happy. The F800 was from my childhood back in Germany. It was bought in the mid 50's. Scott, you did an absolute terrific job with these locomotives. It is clear to me why Maerklin in New Berlin recommended you. You are just simply the best. Keep up the good work. I will put a check in the mail on Monday. Thank you again Scott!
Best regards,
Manfred Gaupp

Hello Scott:
Just received the 2 Locos. I really would like to congratulate you on your superb work and attention to detail. Even the shipping box and the individual wrapping of the trains are first rate.
Your invoices are extremely detailed and provide a great reference to the condition of the locos for managing the inventory. I was not aware of the poor quality of the previous DCC installations – that was ___________ when DCC was still new. Guess they were not as great as I thought. You are a great asset!
I believe you said you were an engineer? At any rate you are one of the Sons of Martha.

"
simple service simply given to his own kind in their common need".
(See Rudyard Kipling's prose)
These are just a couple of the emails received after servicing customer's locomotives. Unsolicited comments like these come in often because we do things the right way. The technology used today in model trains is very much like the technology found in your computer, automobile and home entertainment center. Repairing today's model trains takes a lot of technical expertise that can only be gained through intense study, practice, research and hands on training. We have invested untold hours to learn everything we possibly can about today's technology so we can offer our customers the most professional, high quality repair service available. With factory specialty tools and over 40 years of experience, we have the knowledge and skill to repair your locomotives the correct way. We also keep a large stock of spare parts on hand to ensure faster turn around.
Your valuable locomotives are treated with respect! Your locomotive is handled carefully. All locomotives, whether in for overhaul or digital conversion, are completely disassembled, de-greased and cleaned in an ultrasonic bath. We then reassemble with new parts where necessary. This always includes new traction tires and brushes. This assures your locomotive is returned to its original performance. This is especially important for locomotives being converted to digital. Reliable performance can only be assured from a clean mechanism. Labor charges are $65.00 per hour. This charge covers most repairs and conversions. However, locomotives that require additional time due to the complexity of their mechanism or locomotives which require additional decoder programming (like sound decoders) are billed at this base rate plus additional time in 1/10th of an hour increments.
More unsolicited comments about our service:
Hi Scott, Just got around to running the two locomotives that you serviced. They both run better than before. I believe that Crocodile, MA 39565, has improved sound? I like. Loco runs so smooth and just crawls so easily. A true joy to run. I really appreciate your attention and solution to the front trucks.
On MA 36653, I was really impressed that you noticed and replaced broken horns and antenna on shell of the ITL loco. I did not expect this. Fantastic. I'll be most careful from now on.
Well, I can't thank you enough for the wonderful servicing that you do. I so glad you have this business. Otherwise, I wouldn't know where to turn for quality service. You have great talent.
Larry Fangman

I just received my converted lok with the 60904 decoder, and I have to say that you are the best dealer regarding speed of service, follow through, efficiency, etc.!!! I knew that these decoders only recently became available, and, for a TYPICAL dealer, I'd have to contact them and remind them to install one of these in the lok they're holding for this purpose. I thought about emailing you, but, from past experience with you, thought you'd likely take care of it ASAP...which, is EXACTLY what you did. What a pleasure to have a dealer take care of these type of "pending" situations without me reminding them.

You're great, keep up the great work, and thanks!!!

Grant Markley